"If anyone considers himself religious and yet does not keep a tight rein on his tongue, he deceives himself and his religion is worthless. Religion that God our Father accepts as pure and faultless is this: to look after orphans and widows in their distress and to keep oneself from being polluted by the world." James 1:26-27
Religion is such a hated word. Even by me - it has so many overtones. If only we could do the religion it talks about in James. Jesus was/is so much more than what I think about religion. I have some cute pictures of life here on the wool ranch, but my heart has been kinda heavy with the plight of orphans today. There are so many. We really have no idea. Not here in North America. But there are things we can do. I've been surfing around and there are some really neat ideas out there. One of my favourite sites is
Amazima
. Katie is this 21 year old girl who has adopted
14 orphan girls, she, "sends over 350 children to school, and now has a feeding program of over 1200". She has a blog - you can get to it from the site. It moves me to tears and inspires me to do more.
One little thing is to buy these really fabulous necklaces that are made by Ugandan women to support their families. You can read about it on Katie's latest blog post.
Through her site I also found 147 million orphans
- these two moms (with 13 kids) who have creatively found ways to raise money for all these orphaned children. Worth checking out, really!
Another site I wandered onto this afternoon was a family who are wanting to adopt a little girl and they are selling cute bracelets to raise the money.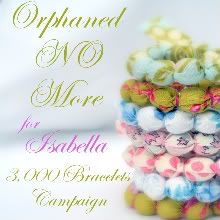 So, that's what I've been up to this afternoon. I wish I were rich. But I am, when I compare myself with pretty much any one from any other country but mine. There is so much more we can do.